#246 – Refilling The Creative Well
1 month ago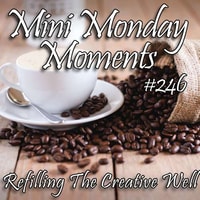 Refilling The Creative Well
Oh, hey, I've not seen you for ages! How are you? No, I'm on lunch; I like to sit here and observe the happenings around me. It's fun to see what people are up to, going back and forth. I like making stories for them... wondering what's happening in their lives.
~background ambience from tabletopaudio.com; Lively Cafe
---
Artist note: apologies for less than usual sound quality in this audio. I was forced to record this away from my usual mic, but I hope your listening experience is close to what you have come to expect from me. Enjoy. <3
---
Mini Monday Moments (MMMs) are short, non erotic, wholly safe for work, (usually) gender neutral audios covering all manner of small, common little day-to-day scenarios that someone may need support/comfort/reassurance for.
I would LOVE to record a moment just for you, so please; feel free to suggest a new MMM by using this form: https://forms.gle/M6uQ7vxmjGVLNWos9 Let me bring a little lightness and joy to your Monday.
Support Mini Monday Moments by contributing to their tip jar: https://tips.pinecast.com/jar/mini-monday-moments
Find out more at http://minimondaymoments.com