#233 – Cars Can Be Repaired, You Can't
7 months ago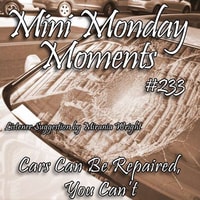 Cars Can Be Repaired, You Can't
TWs: mentions car accident (non fatal) Honey, I'm sorry you're having to go through this. What a nightmare. It must have been really scary for you. But I need you to know that I don't care about the car. Not at all. No! You're so much more important than a pile of metal and plastic. That thing can be repaired, but there's only one of you. And I'm so, so glad you're safe.
---
Mini Monday Moments (MMMs) are short, non erotic, wholly safe for work, (usually) gender neutral audios covering all manner of small, common little day-to-day scenarios that someone may need support/comfort/reassurance for.
I would LOVE to record a moment just for you, so please; feel free to suggest a new MMM by using this form: https://forms.gle/M6uQ7vxmjGVLNWos9 Let me bring a little lightness and joy to your Monday.
Support Mini Monday Moments by contributing to their tip jar: https://tips.pinecast.com/jar/mini-monday-moments
Find out more at http://minimondaymoments.com