#199 – Safe In My Arms
28 days ago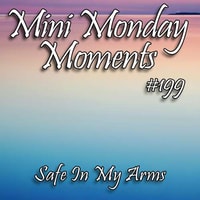 Safe In My Arms
Take a moment, pet.
Just a small one. Relax, be safe, be calm.
Find security and comfort in my arms while you prepare yourself for the rest of the day.
---
Intro and outro music by PlayOnLoop.com, licensed under Creative Commons by Attribution 4.0
Backing track: Dewdrop Fantasy by Kevin MacLeod
Link: https://incompetech.filmmusic.io/song/3645-dewdrop-fantasy
License: http://creativecommons.org/licenses/by/4.0/
---
Mini Monday Moments (MMMs) are short, non erotic, wholly safe for work, (usually) gender neutral audios covering all manner of small, common little day-to-day scenarios that someone may need support/comfort/reassurance for.
I would LOVE to record a moment just for you, so please; feel free to suggest a new MMM by using this form: https://forms.gle/M6uQ7vxmjGVLNWos9
Let me bring a little lightness and joy to your Monday.
Support Mini Monday Moments by contributing to their tip jar: https://tips.pinecast.com/jar/mini-monday-moments
Find out more at http://minimondaymoments.com